Tony DiTerlizzi is an illustrator for books.
He is best known for his work in the Spiderwick Chronicles, Dungeons and Dragons, and various children's books. Of the many books he has done illustrations for he won Caldecott Medal of Honor for his work in "The Spider and the Fly" in 2003. His illustrated version was featured in a 2006 photo with First Lady Laura Bush when she went to do a live reading of it to a group of kids.
In 2014, he wrote and designed "Star Wars: the Adventures of Luke Skywalker" for Disney Lucasfilm press.
In MTG, he is best known for the Mercadian revision of Brainstorm, Verdant Force for Tempest, Supersize for Unhinged, Terminate for Invasion, Goblin Matron in Urza's Saga, Fire Imp in Portal and the Nemesis expansion's story card Eye of Yawgmoth.
He presently lives in Amherst, Massachusetts with his wife Angela and their daughter Sophia.
His slogan/motto is "Never abandon Imagination."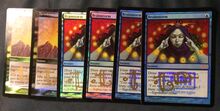 (Photo: Viviern Zell collection)