Mike Raabe is an artist for gaming and publishing industries.
He is best known for Tinker and Adakar Wastes. Outside MTG he has done work for Board Games, D&D, World Tree and various other paper and pen RPGs.
He is also best known to hardcore collectors as "the artist who never returns stuff in a timely manner."
For a time before late2012 (when his personal website was still active), Mike Raabe would sign stuff through the mail for as long the person sent the correct amount for return shipping. If the person didn't provide enough return shipping, their items would be donated to charity and that would be that. The last known shipment to return in a timely manner was 2010 as reported by Markers and Roger Riera.
The problems of him not returning in a timely manner began in 2013, when Raabe promised his fans and collectors who had previous sent stuff to sign that he would clear up his backlog "soon." It was believed that he would sign off all the stuff and send them all back in a matter of few months. Despite his priorities, the announcement and proof he still has those shipments in his holdings, none of them were reported returned in the projected time he had promised.
In 2015, Raabe agreed to a mass signing. It was believed by collectors (who has previously sent outside that event) that through the mass signing event that Raabe would clear up his backlog either before the mass shipment went to his location or during the mass signing event. Most artists who had agreed to a mass signing event usually cleared up their backlogs in this manner to ensure that confidence with their name is sustained. But when it was learned that Raabe skipped over his backlog, every collector who had been patient with him outside the mass signing lost complete confidence in him in ever keeping his word.
Even now he still has that extensive backlog with some for which he claims were "unforwardable" due to the sender moving someplace else or by claiming to confirmed sender that "he will get to it soon." Whether they will be returned to their owners is still a hot topic for discussion.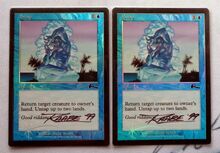 (Photo: Roger Riera collection)